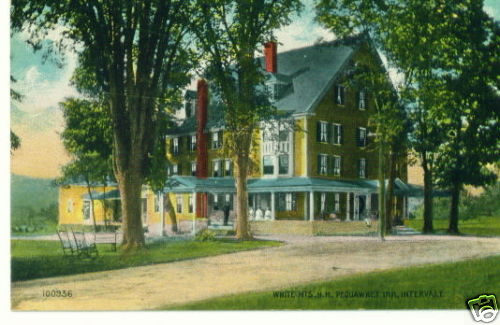 Mrs. Harriet
Vickery'
s
Pequawket House
first operated as an Inn beginning in 1845 by Hazen
Pitman
, Vickery's father. "
Hattie"
operated the Inn from about 1880 until her death in the early 1900's. The Inn accommodated about 70 people and was considered to appeal to the budget conscience traveller. After her death the Inn was purchased by a Mrs C.C.
Small
who operated it until 1927; at which time it was purchased by Newell and Gladys
Smith
who renamed it the Smith Tavern. The next owners were Jerry and Carolyn
Graves
who renamed it to the Pequawket House. Unfortunately the building was destroyed by fire in the early 1960's.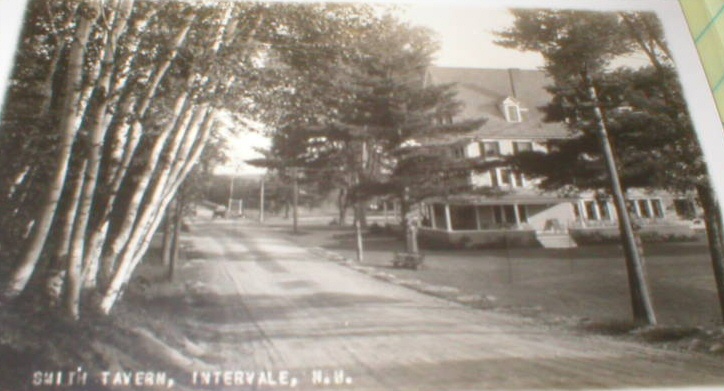 I bet you know right where this spot is. Next time you go by this spot remember Smith Tavern was once there and before that it was known as the Pequawket Inn.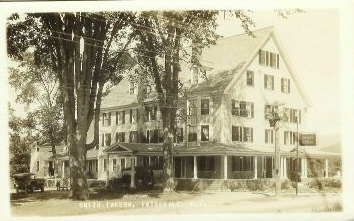 Smith Tavern, Intervale, NH Early 1930's
There will be some text to go along with all these pictures. Especially if someone will take a moment to tell the website editor what they know of these places....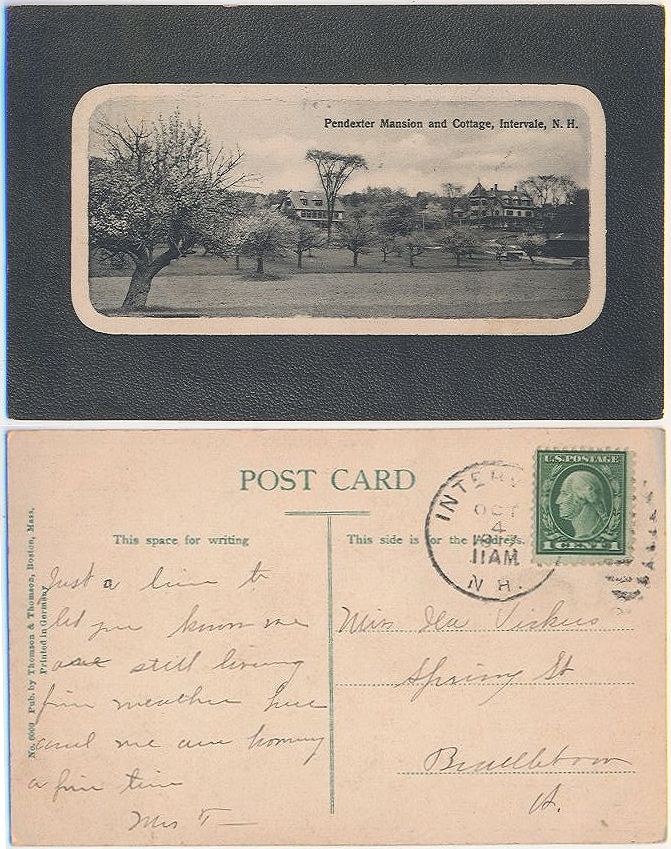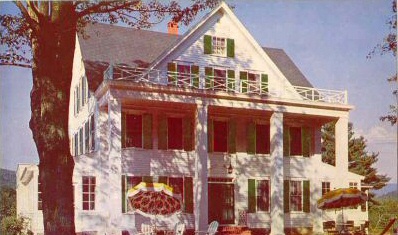 The Hampshire House - Intervale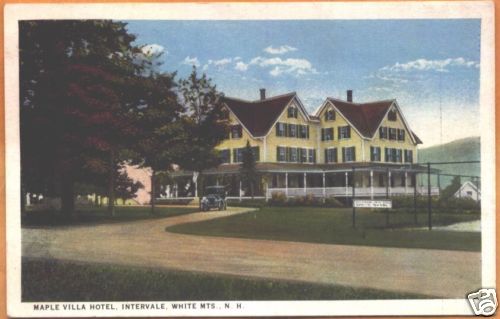 Maple Villa Hotel, Intervale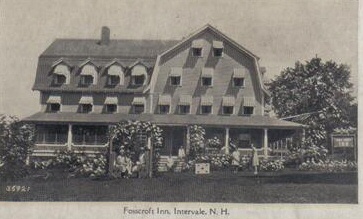 Fosscroft Inn
- Intervale Built by Ernest
Foss
in 1925 at a time when the era of big hotels was coming to an end. It was built on the site of the former Langdon Hotel. As t
r
ain travel decreased its time as a hotel was brief and by 1950 it was home to
Ray Houle's Yankee Peddler
, an antique shop. A reliable source told this editor that when Ray Houle bought the building he moved it across Rt 16 to its final resting spot, just west of todays scenic vista. The building, like so many others, burned in the early 1960's.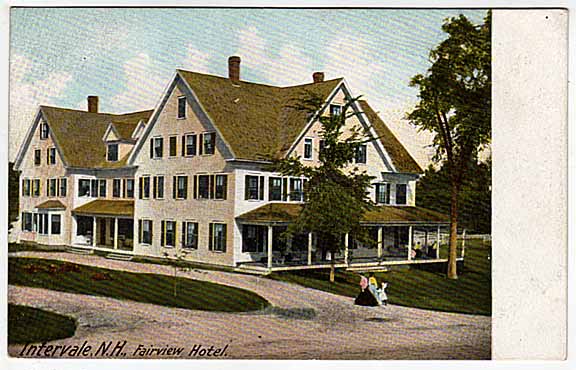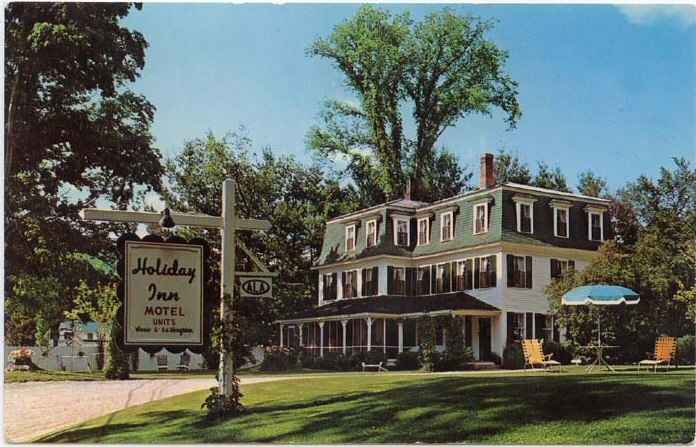 This building was first known as Carletons' Inn, The Forest. In 1918 it was purchased by John and Gertrude Fernald and became Fernald's Cottage. By 1930 it had new owners who renamed it Rest-a-Bit and, unusual for the time, operated the Inn year round. It had one more owner before 1946 when the Burgess's purchased the property and renamed it the Holiday Inn. By the 1960's the Houghtons owned the property and there was a legal battle with the bigger chain brand name, Holiday Inn, but it continued with its name until 1984 when the Clough's purchased it and renamed it back to its historic beginnings, The Forest.
2014 addition:
Ted Houghton
sent us a copy of his sister Pat Houghton Marr's history of the building along with pictures and memorabilia.
You can view it here:
HOLIDAY INN.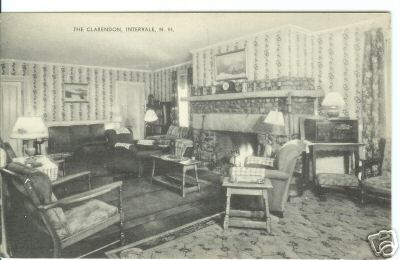 Inside the Clarendon, Intervale, NH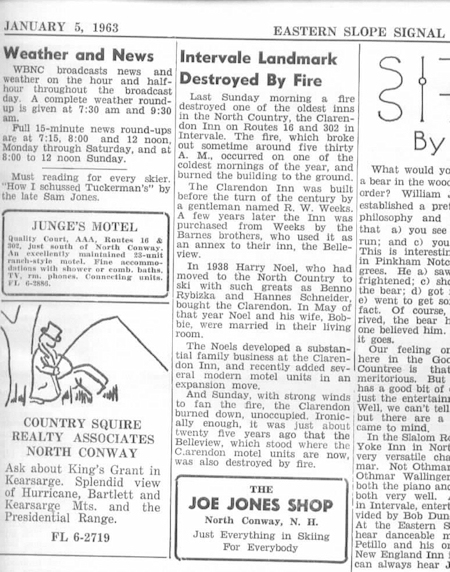 Lodging Intervale - pg 3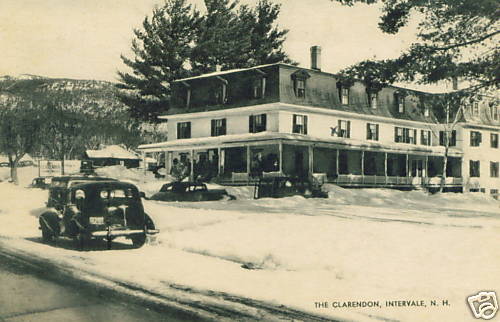 Clarendon Inn
Destroyed by Fire in 1963.
The Bellview
occupied this spot before the Clarendon, it also burned. Read the whole story in the SIGNAL,
Here
| | | | | |
| --- | --- | --- | --- | --- |
| PO Box 514. | Bartlett, New Hampshire 03812 | ...- | | |

Search BHS with Google. It finds everything! -->--->--->






You don't have to know what you're looking for...Just start looking. Click the files...









Bartlett Historical Society Museum Project

The Renovation and Transformation of the Former
St. Joseph Church into our new headquarters and museum....


Read more about our exciting project