Carl Brown, of Whitefield, sent me these pictures of Crystal Hills Lodge in the mid fifties. Carl is the son of Meg and Les Brown, the owners. Carl grew up in the ski lodge business, now builds dog-sleds. His sister, Wendy, was recently spotted ski instructing at Mad River Glen. Click on these images to see the full size version.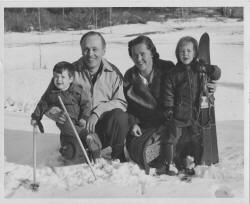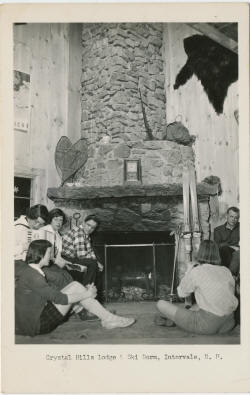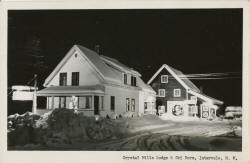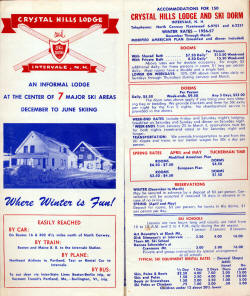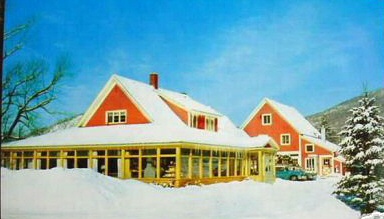 Lodging in Intervale - Page 2

THE GREAT FIRE ON MOUNT WASHINGTON — OTHER RECENT EVENTS OF INTEREST

Aside from the establishment of the White Mountain National Forest, to be dealt with in the next chapter, the most notable event in recent White Mountain history is an occurrence which has already been several times mentioned incidentally, the great fire of the night of Thursday, June 18, 1908, by which the active portion of the settlement on New England's highest point was in a few hours wiped out and the Summit thrown back to the primitive conditions of half a century before. This most disastrous conflagration not only was a serious setback to the business interests concerned, — a reparable injury, — but, by its removal of a number of ancient landmarks about which were clustered memories and associations of many sort, it occasioned a sentimental loss which cannot be recovered. For it was with genuine sorrow that the news of the fire came to thousands throughout this country and in distant lands, and particularly was the destruction of the hotel lamented by those who as permanent summer guests had enjoyed the hospitality and shelter of the Summit.House, and by those whose occupations were in connection with the enterprises conducted on the Summit.

Read the Entire Article at

Chronicles of the White Mountains

By Frederick Wilkinson Kilbourne

Bits & Pieces
Crystal Hills Lodge and Ski Dorm was operated from the 1940's to the 1960's by Meg and Les Brown. In the early 1960's they renamed it the House of Color which operated as a large gift and souvenir shop.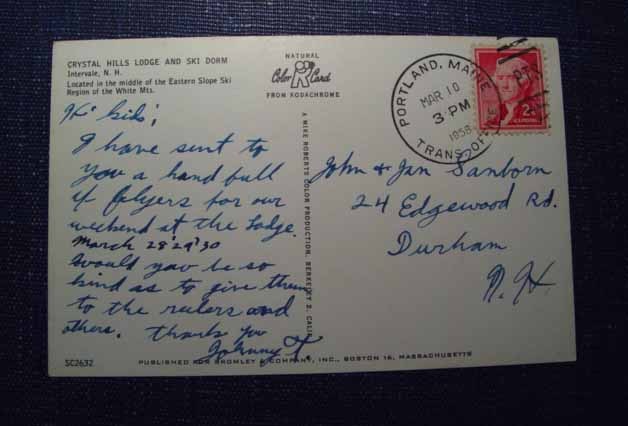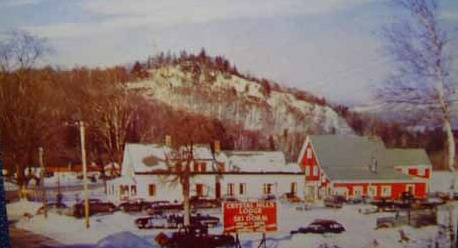 | | | | | |
| --- | --- | --- | --- | --- |
| PO Box 514. | Bartlett, New Hampshire 03812 | ...- | | |

Search BHS with Google. It finds everything! -->--->--->






You don't have to know what you're looking for...Just start looking. Click the files...









Bartlett Historical Society Museum Project

The Renovation and Transformation of the Former
St. Joseph Church into our new headquarters and museum....


Read more about our exciting project