Lodging in the Intervale Area
September 2009:


Mount Surprise Cottage
Was in the Kearsarge Section of Bartlett.

Norman Head talked with a Mr. & Mrs. Paquette who were inquiring about a Mt Surprise Cottage that Mr. Paquette used to stay in as a child. At first blush it was thought it might be The Buttonwood Inn. The one thing he remembered was a Ma & Pa Gardner who ran it. The Paquettes did extensive research going to the town hall, The Buttonwood, etc. Norman called Marcia D & Jean Garland and it was not familiar to either of them. Anyway, after more research on the Paquettes part, which finally involved tracking down Donny Gardner (grandson of Ma & Pa Gardner), it was determined that Donny's grandparents (real names Alfred & Lula Gardner) did run the Mt Surprise cottage. It is where Clarence Tibbetts house is and is now owned by Rob & Nancy Clark. The Paquettes visited with Rob and he was completely unaware of the history, but was glad to find it out.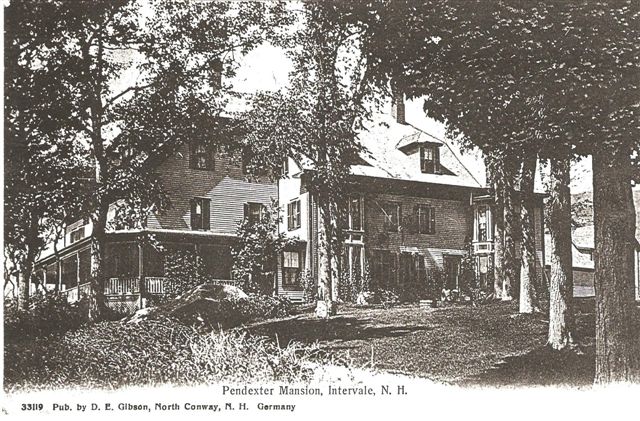 The Pendexter Mansion in Intervale. STORY HERE
Read all about all the Intervale Inn's of the past in Aileen Carroll's book,
The Latchstring Was Always Out
Published in 1994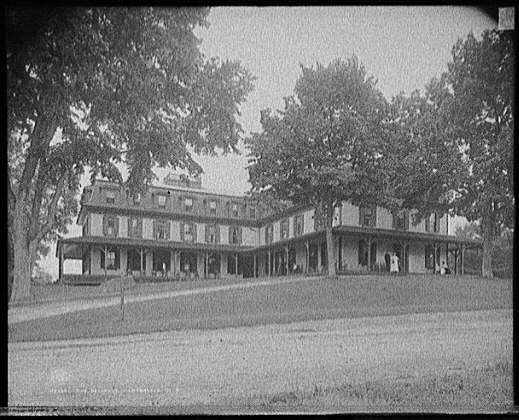 The Bellevue Hotel
This book, Stagecoach and Tavern Days, (below) is a very good source for information relating to Tavern Keeping and travelling adventures in the 16, 17, and 1800's. The complete book with all the chapters and a larger format, is available at various venues on-line. Use google search and you will find it easily.
(STORY IS HERE)
Bits & Pieces
The Eastern Slope of the White Mountains was still a vast, untamed wilderness when the original farmhouse was built on this site by Samuel Bloodgood, in 1809.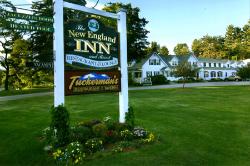 The Bloodgood farm
was famous for its hospitality from the first and remained so during Samuel's life and those of his sons and grandsons.




Among the third generation, Lyle Bloodgood had been a handsome, young and talented actor. Returning in later life after extensive travels, he often regaled his guests with tales of the state. His most exciting story was an eye-witness account of Lincoln's assassination. He had been one of the performers at Ford's theater
in Washington on that fatal night.It was some years before this, in the late 1830s, that the farm had in fact become an inn, the owners
setting a sign at the roadside to invite the traveling public to their hearth and board.