You can get the best book ever written about Livermore:
In 1993 Peter Crane wrote his Doctoral thesis titled
"Glimpses of Livermore: Life and Lore of an Abandoned White Mountain Woods Community".
It is probably the most extensive research project ever undertaken for the
Town of Livermore
.
As you can see from the Table of Contents shown below Mr Crane has left no stone unturned in this remarkable piece of history. The work has extensive bibliographical sources, a huge index and a good majority of the thesis is devoted to interviews with folks who either lived, worked, or were in some way associated with the abandoned town. These interviews also diverge from Livermore to other aspects of life in and around Bartlett.
The book is copyrighted and can be ordered in various formats from
PROQUEST
starting at $42. for a downloadable PDF up to $108. for the hardbound book. Here is a link to the order form title search. just enter Peter Crane in the author box:
http://disexpress.umi.com/dxweb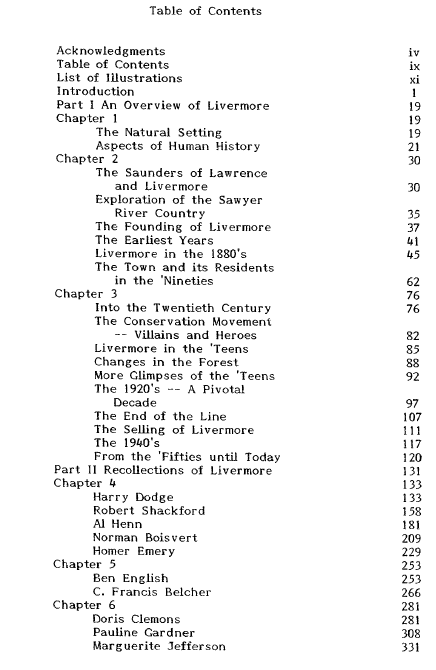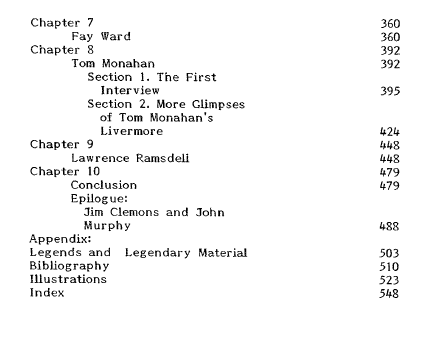 This material on Sawyer River Railroad was sent to us by Mr. Robert Girouard, who is a collector of all things White Mountains, and especially Railroads. We cannot thank him enough for all the material he has donated and is scatterd throughout this website.
The identification on the first page, "A Bulletin Staff Report - Photos from the NRHS Collection", I believe the source is The National Railway Historic Society.
OFF-SITE
LINK TO PICTURE COLLECTION
OF LIVERMORE
Click any image for a high resolution version where you can see faces. If you know any of these people please
TELL US
WHO THEY ARE
Livermore continued.....
The U-Tube video below features Tom Monahan, of Lancaster, who remembers Livermore. His father attended 12 years of school at Livermore and was later a supervisor for the Sawyer River Railroad. Tom recollects memories from the 1940's. This video is dated 08 October 2010 by
White Mt. News
| | | | | |
| --- | --- | --- | --- | --- |
| PO Box 514. | Bartlett, New Hampshire 03812 | ...- | | |

Search BHS with Google. It finds everything! -->--->--->






You don't have to know what you're looking for...Just start looking. Click the files...









Bartlett Historical Society Museum Project

The Renovation and Transformation of the Former
St. Joseph Church into our new headquarters and museum....


Read more about our exciting project