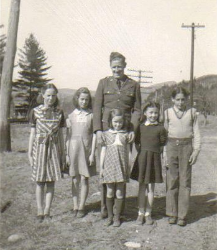 In the Cooks Crossing area, Seth Towle and, from left to right:
Vivian Robertson (Eastman)
Mildred Locke (Kelley)
Merlene Locke (Hatch)
Marie Frechette
Floyd Robertson


All information and pictures here are From Scotty Mallett,
I hope he sees this and sends us the missing information.
We were recently asked how COOK'S CROSSING came to be named. Norm Head just happened to know the answer.
I grew up and still live just up the road from your house (assuming it's the first shingle style cottage going down the West Side) and am quite familiar with it. The Cook family once owned all of the land that now surrounds your cottage as well as the acreage where The Seasons Condominiums are now. The last Cook family member I knew was Roland Cook who lived in an old farmhouse in the middle of what is now
The Seasons Property.
I remember his house was reached by a long driveway and was surrounded by pine trees. Mr. Cook worked at Mt. Cranmore and was killed one day on his way to work. The accident happened near the present location of Milford Flooring in Intervale.
As you know, there presently is an overpass over the railroad tracks, but the overpass was not always there. Before my time, the road used to just go over the tracks without the benefit of an overpass and vehicles proceeding W or E on Route 302 would have to stop for train traffic. The tracks would thus "cross" the road. Since the Cook family owned most of the land around there and Yankees like to give locations local names, it became known as Cook's Crossing. The name still shows on many maps and locals still know the reference. It retains its name but I suppose as time goes by, the name may fade away.
Another example of a named crossing is where the tracks cross the road just west of Attitash. That is known as Rogers' Crossing after Harry Rogers and the Rogers family who used to have a farmhouse just over the tracks on the right.
Sadly, that house burned flat
(and quickly) on a cold and very windy morning. That land as well as the adjoining land where the former town dump was located is now owned by
Joe Berry.
Hope this helps, glad to try to answer any other questions you might have. Hard to believe that I may be becoming one of those "old timers" that we used to refer to.
Norm Head
President
Bartlett Historical Society
Editors Note: In recent history some folks refer to this area as "Sucker Brook", which probably refers to a small seasonal stream in the area.