Schools
From town report for the fiscal year ending February 27, 1897,

No. 1 - Lower Bartlett; No. 2 - Glen; No. 3 - Garland Ridge
No. 4 - Kearsarge; No. 5 - Hill Town; No. 6 - Goodrich Falls

We assume that each of the district school houses was of the one-room variety in 1897. Four of the one-room school houses in these districts are depicted on the afghan
(pic below):
Lower Bartlett, Glen, Garland Ridge and Goodrich Falls.

No. 1 -
Lower Bartlett
- The Intervale (Lower Bartlett) School, the only one-room school still in existence, is now a private residence. It is located on Route 16A in the Intervale area of Bartlett. That school was replaced with the Intervale Grammar
School, built in 1938. This school educated the children of Intervale, Glen and Goodrich Falls until its closing in the late 1950s. That building, located in the lower left corner of the afghan
(pic. below)
, still exists and now houses the Bartlett Town
Hall and Town Offices.

No. 2 -
Glen
- The Glen School was located on Route 302 approximately halfway between the Massa Schussers Ski Club and Jericho Road. It appears on the afghan thanks to Vivian Robinson Eastman and Isabelle Dana Crouse, who described the building as they recalled it when they attended school there.
No. 3 -
Garland Ridge
- The Garland Ridge School was located
along Stony Brook, which is located between the Attitash Ski Area and Roger's Crossing, (the railroad crossing east of Bartlett Village).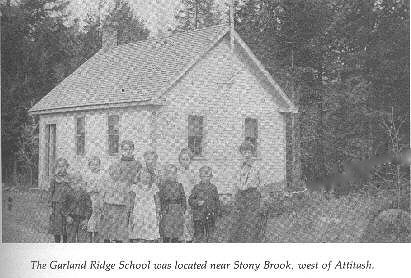 Thanks to Jean Garland, who provided us with an old photograph from the Library files, we were able to sketch a likeness of that one-room school house for the afghan.
No. 4 -
Kearsarge
- The Kearsarge School was located on what is now known as Hurricane Mountain Road, approximately half way between Mt. Surprise Road and Timberline Road. In the late 1800s the building is said to have been moved across the street into Conway, and Bartlett paid Conway tuition for the Kearsarge children to attend school there. This arrangement was continued until the 1930s. A time-worn photograph of this school is located in the history files at the Bartlett Library.

No. 5 -
Hill Town
- The Hill Town District is located on West Side Road, approximately two miles east of the Route 302/West Side Road intersection.
(more info
HILL TOWN
).
All that remains of that settlement is an old graveyard and the evidence of a few of the homes. The descendants of Brian Hill and Priscilla Drown Ward, early settlers of that area, still live in Bartlett. According to the 1897 report, $15.00 was expended to move the old school and $331.96 for labor and materials was expended to build a new school in the Hill District. Unfortunately, we were unable to locate a photo of either of these buildings for the 2008 afghan.

No. 6 -
Goodrich Falls
- The Goodrich Falls School was located on old Route 16 just south of the home formerly owned by the McGraw family. We now have a pretty good idea of school days at Goodrich Falls, thanks to Marion Morton Randall, quite possibly the last known person, now living, to attend that school.
Special District No. 5 -
Bartlett Village
- Bartlett Village Grammar School (located in the upper right-hand corner of the afghan) was built circa 1880, renovated in 1896 and burned in February 1931. The building was replaced with another in
1932. That building, titled Bartlett Grammar/High School is located in the lower right corner on the afghan.
Bartlett High School
was built circa 1922-23, and is located in the upper left corner of the afghan and called Bartlett High/Grammar School. It served in that capacity until circa 1949, when it became the grammar school. The high school moved into the grammar school building and was located there until its closing in 1958.

The school in the center medallion represents the present school facility with its wings.

School, by John Chandler
During the period during which the U.S. was developed considerable interest in providing educational facilities for students seeking high school diplomas. A few had been fortunate enough to avail themselves of higher education at schools in Conway, North Conway, Gorham (N.H.) and in Fryeburg and Portland, Me. After very careful planning, and having dredged all obvious alternatves, a small group of persons banded together to establish a two year high school. It was housed in the precinct building in Bartlett Village and a teacher was engaged to conduct classes in the subjects essential to meet State secondary schools standards. The first classes were held in September of 1922, with 20 students enrolled. The teacher selected for this project was
William Hounsell
of Conway. This proved to be a very wise choice. He was an excellent teacher and was able to maintain discipline in difficult situations. He did a fine job in preparing the students for the final two years of high school.

In September of 1924, a four year High School was established with a new building (now part of the elementary school) and with William Hounsell as principal. The student body was made up mostly of underclassmen. Senior students were very limited in number. Inability of the older students to attend other schools after the two year program caused a spin-off into the job market and left only two potential senior students. When school opened in September, only one senior was enrolled. The other, (myself), having been elected captain of football at Kennett High School, and wishing to avail himself of this experience, decided to remain at Kennett. The situation changed when Christmas vacation rolled around and it appeared possible for this student to attend college, provided all resources were conserved toward that end. He therefore returned to Bartlett High School in January of 1925 to finish the year and graduate. This doubled the size of the first class of graduates from B.H.S. - from one to two! Both seniors went on to attend the University of New Hampshire as undergraduates. One went on to obtain advance degrees from Harvard University, while the other followed a career in electronics and aviation.After this lowly beginning, B.H.S. went on to successfully prepare students for advance study or life in an increasingly complex world.Bartlett High School numbers among its graduates persons who have successfully followed careers in business, science and research and persons who were later engaged in advancing education. Also included among B.H.S. graduates are many scattered about the world, among them are many high ranking military personnel. In the late 1950s, for economic and other reasons, the high school was discontinued and the students began to be bused to Kennett High School in Conway. This move made available to the students more varied curriculums and modern facilities desirable to the learning process.Bartlett, in the opinion of one early graduate, can be justly proud of its young people's accomplishments toward better education during the early 1920s. A careful study of the record seems to indicate that when it comes to a high school, big is not necessarily better.
Editorial note: Bartlett High School graduates might be interested to know that William Hounsell (1898-1969) continued to further his career. He became the superintendent of schools in Penacook (N.H.) before he retired to Conway, where his widow, Hazel Towle Hounsell still makes her home.
Bits and Pieces
schools page 2