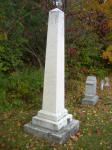 I'm just getting started on this section and already I'm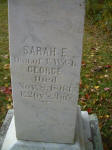 beginning with a Question? I have seen reference to
the Timothy George Farm
in various places and I believe it was located in the area of the present day Villager Motel. I am wondering how (if) Timothy was related to Franklin George of the Village.
He, and his family are buried at the west end of the Garland Ridge Cemetery, close by to all the other Georges', but not in the same plot.
Timothy W. George
was born in 1800 and died Feb 1869. His
wife, Lavina
, born 1806 and died in June of 1870.
Timothy Jr died at 24 years
of age in Jan 1869 and a
Daughter, Sarah, died Nov of 1863
at 26 years of age. How did the father and son come to die just a month apart; and Lavina just a year and a half later? Disease? And what did Sarah succomb to?
How did he come to own the farm and who inherited the farm after their deaths?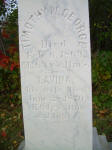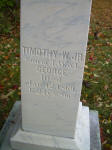 That's alot of questions for a 145 year old event.
Click these pictures for a large version. Then, tell me how they fit in?