This article researched, compiled and offered to the Bartlett Historical Society by Ruth Ward Abbott.
In 1994, the New Hampshire Division of Historical Inventory identified
the Ward house
as the only farm house from the early
1800 period of development
which remains extant in the present village center. This homestead was declared the best preserved cape from this early period.
The 3x5 bay, federal style center entry cape has a broad gable roof and center chimney. The windows are set close under the eaves. In the late 1800's dormers were added over the long wing which historically contained carriage sheds and connected to the barn.
Houses built in the early 1800's had special characteristics such as external door hinges and latches. Sashes, framing and paneling were done with rough timber and wooden pegs. Cellar walls and foundations were of granite slabs. The Ward house of today exhibits all these characteristics.
In 1820,
Samuel Seavey and his son John
moved from Deerfield, NH to Bartlett. They built a log cabin in the area which later became known as the Smith/Greenwood properties and began clearing the land.
John and his wife, Polly B. Seavey
lived in the cabin while the house and barn were under construction.
In April, 1833 a daughter,
Mary Frances
was born. A second daughter,
Susan Polly
was born in August, 1835. The house was completed in 1837 and the Seavey family moved in.
In 1850,
Mary Frances married Nathan Howe French
and they lived in the Seavey homestead while building their home across the street.
Susan Polly married in 1865 to Amos Stanton.
He was killed in the war.
In 1875,
Susan married Humphrey P. Richards
and they lived in the Seavey homestead.
Addie M. Foss
, niece of Richards, married
Fred J. Ward
and in 1907, they inherited the house from
Susan P. Richards.
Fred and Addie Ward
had five children;
Alice, Marion, Irving, Everett and Merton
. In 1931, Fred and Addie willed the house and properties to
Everett
in exchange for their "good being and all financial responsibilities". In 1932
Everett (1910-1972) married Dorothy Dell Coleman
(1915-2007) of Jackson, NH. They had two daughters,
Ruth Sandra
(1936) and
Donna Mae
(1942).
For several years
Dorothy
operated a small business on the property specializing in balsam pillows and maple syrup products. Today,
Donna Ward Iovino and her husband James
reside in
the oldest home in Bartlett village
, the fifth generation to do so.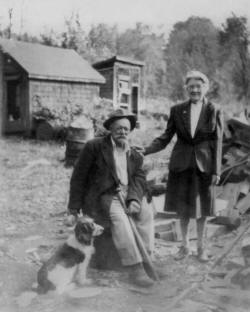 PROVIDED BY ROGER MARCOUX:
Although not a home per se, the oldest building in the village is the former jail on Albany Avenue, which was also Johnny Marcou's shop. He lived in it too, part of the time in the late 50's. Here is a photo of it back then, (looks the same now, but it is painted white) with my grandfather and grandmother Marcou and their dog posed in front of it. That building behind it which no longer exists, was his sawmill and he had some really scary saws in it as I recollect. Prior to this being the oldest, there was a small building next to the Bretl Hupfers ski club that held the honor, but it was torn down a few years ago.