Recalling family and village life of those who grew up in Bartlett
Bartlett Public Library,reminisces with the "Bartlett Brothers."
This program is hosted by BHS members, Ruth Abbott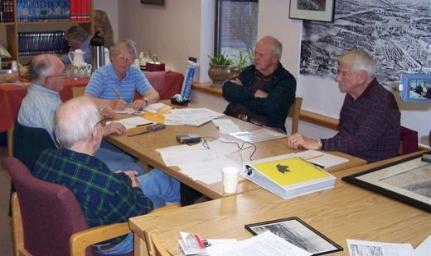 .


The participants, shown above, are the Howard brothers, James and Benson Howard, and the Clemons brothers (foreground), Donald and James, with Pauline Gardner Howard.
The Ainsworth brothers, Willard and Archie, were unable to participate on this date, but plan to attend the follow-up session with the Howards and the Clemons in December.

All grew up in Bartlett Village from the 1920s through the 1940s. They shared stories of their families as well as life in the village, and spoke of the interesting "characters" in the village at that time.

The map on the wall behind Jim Clemons is an 8-foot enlargement of an 1896 birds-eye-view map of Bartlett Village, which will be the basis of an extensive cataloging of village businesses and residences, starting the 1900 US census. The goal is to identify as many families as possible. Eventually, the Society hopes to move forward, using this map, to trace the occupancy of each home.
Bits and Pieces
Thriving Club of "Merry Widows" A Feature of Society in Bartlett, NH


Town Has More Widow Than Any in America Yet Heard From, and They Are Active, Self-Reliant and Hard-Working Women, Who Play an Important Part in the Affairs of the Community - Their Occupations are Varied, and Some of Them Do Men's Work, and Do It Well.


Click here for full article
Lock Shop's background

This Article appeared in the Letters to the Editor of the Conway Daily Sun on September 10, 2009. It seems to be of Historical significance.
—

To the editor:
I must correct some information in your article about Joe Thibodeau's recent purchase of The Lock Shop [Conway Daily Sun Business section, Sept. 2, 2009].
My step-father, William Gimber, started The Lock Shop in North Conway. He owned the former gas station where the Connie Davis Watson park is now located. The garage was for gas sales and a mini-mart only. The service bay was where Bill originated The Lock Shop (that and his van). He ran it there until he purchased the location where Prompto Oil Change now is. You may remember there was a vacant
retail space and a small laundromat. Bill then moved The Lock Shop to that location and ran it up until his passing in November 1975. There were two employees then, Doug Carr and John Stetson. Doug Carr, while a valuable employee, never owned either the business or the real estate. Doug and his wife Ruth, in their retirement, had
built a house on Dundee Road After my father's passing, I managed the business with the very capable help of Doug and John. Doug had already retired up here once and didn't want to continue working any more. About that time, John started having some
personal problems and the family decided it was time to sell. Mr. Charlie Albro had previously expressed some interest and we ended up negotiating a satisfactory
agreement. He ran the business until he sold it to Bob and Maureen Day. Charlie Albro moved the business from North Conway to Conway when he purchased that mobile
home park there in the rear and he subsequently sold to Bob Day. Don't mean to be picky, but I hope this clarifies the situation for both you and Mr. Thibodeau. Again, Mr. Carr never owned the business. I still have some old Lock Shop memo pads with my father's name on them.
Norman J. Head
Badger Realty LLC
Jackson

From the book,
"Lucy Crawford's History of the White Mountains":


In December of 1783
Richard Garland
was one of only five inhabitants of this location and there were but few inhabitants within 36 miles. Dover was the closest town for purchasing provisions. At one point Mr Garland had a small farm cultivated and one of his neighbors offered him a team of horses if he could find a plow.
Mr Garland then went 7 miles and borrowed the nearest one. He carried it home on his back, plowed all day and into the night, then carried the plow back. During this same day he went 2 miles to buy a 50 pound bale of hay, which he also carried home on his back. When Bartlett was incorporated in 1790 Mr Garland was the town's first constable and collector of taxes. Mr Garland also helped Captain Rosebrook in his endeavors to found a highway through the notch by bringing the first load of supplies (rum) through the notch to prove it could be done.