April 12, 2017
CHANGE OF LOCATION:


The April 12th Event, LOCALS NIGHT, will be held at the lower level of the Bartlett Village Congregational Church.

(NOT AT THE SCHOOL)
Coming Programs and Events for 2017:
Unless otherwise noted, all programs will be held at the Community Room in the school and will start at 7:00 p.m.
LOcals Night—Reminiscences of Bartlett
<![if !vml]><![endif]> <![if !vml]><![endif]> Be entertained with reminiscences from speakers from different villages of Bartlett with stories of yesteryear and bring your own stories. Current speakers are Carroll Hayes, Ralph Mallett. Susan Nickerson, David Shedd, David & Ron Patch, Mike Chandler, Joanne Lufkin and others.
<![if !supportLists]> <![endif]>
October 18, 2017
The History of Heritage New Hampshire by Rob Owen
The Morrell's Heritage-New Hampshire
The Dream, Design, and Thirty Year Run
October 2016 was the tenth anniversary of both the final day Heritage – New Hampshire was open to the public and the day of Stoney Morrell's untimely death from cancer.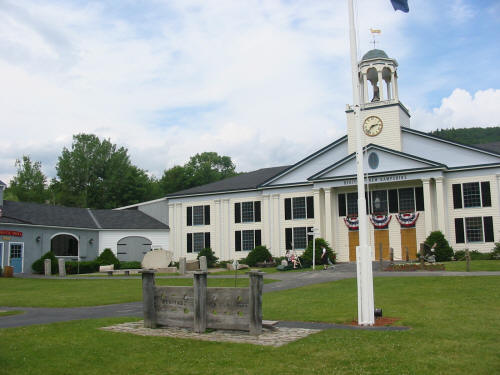 Heritage-New Hampshire happened through a collaboration between Bob and Ruth Morrell and writer/carpenter/theater designer Peter Stone. It was one of two officially sanctioned United States Bicentennial projects in the state of New Hampshire and was one of the first environmental story telling attractions and museums that became a new way to interpret history for museum goers.
Peter Stone did research and identified 30 events in New Hampshire history that were important pieces of New Hampshire's story. He then visited a wax museum in Pennsylvania, Disney World, and researched current (mid-1970's) special effects. He wrote a script for the Heritage-New Hampshire experience. Bob and Ruth Morrell reviewed it and when they gave the OK, Peter built a 1" scale model.
Heritage was built from Peter's model, the majority of the work being done by local craftsmen.
The cement block part of the building was started in the summer of 1975 and the interior was begun in September. Rodney Charles of Jackson built the 12 foot tall Mast Tree Wheels in the Story Land shop over the summer. The wheels and mast tree had to be moved into place before the front wooden section of the building was constructed. Heritage opened on July 4, 1976 .
Bartlett resident Rob Owen, a member of the team that built Heritage over the winter of 1975-76, was also operations coordinator the last ten years of its operation. He will present an overview of Heritage-New Hampshire's creation and highlights of its thirty years in operation using photographs and reminiscences of this unique attraction that was one of the first environmental museums of its kind as well as being a for profit operation that mirrored the changing entertainment interests of the American people.
Rob and Marion Owen moved to Bartlett in 1988 after working as circus clowns throughout the United States. Their two sons Gus and Ged went to Josiah Bartlett Elementary School and Kennett High School. Both Rob and Marion worked at Story Land starting in 1988. Rob went across the parking lot to Heritage in 1996 through its final 2006 season. They now work as Community Integrators with Northern Human Services in Redstone.

<![if !supportLineBreakNewLine]>
<![endif]>
Bob Cottrell will be presenting: Harnessing History: On the Trail of New Hampshire's State Dog, The Chinook
History: When Arthur Walden bred a farm dog with a husky on his Wonalancet, New Hampshire farm, he little knew that the result would be a legendary line of sled dogs. Walden, who had been a dog driver in Alaska for a time, brought the sport of sled dog racing to New England.
One of the puppies from the aforementioned litter, named Chinook after the warm winds that melt Alaska snows, stood out for his good looks, temperament, and working ability, and his puppies followed in his foot prints.
When Admiral Byrd was planning his expedition to Antarctica in 1928, he called on Walden and his Chinook dogs for transport. The original Chinook was part of the team. The Byrd expedition was a success, with one terrible exception: Chinook, 12 years old by then, wandered off and was never found.
In the famous sled dog's honor, the name Chinook Trail was given to a portion of Route 113A that led to Chinook's hometown in New Hampshire.
Walden retired after his adventures in Antarctica and passed on the job of taking care of the breed to Milton and Eva Seeley and Julia Lombard. Then Perry and Honey Greene took over, eventually becoming the only people to breed the dogs.
Over time, based on their falling numbers, the Chinooks earned the dubious title of world's rarest breed, according to the Guinness Book of World Records. At one point, only 28 of the dogs remained, and it was then, in 1981, that several people began the attempt to save the breed. They were successful, but Chinooks are still hard to find.
This should be an interesting and informative presentation and we look forward to seeing you there.
June 7, 2017
We Hope You Can Attend Our Public Events for 2017
| | | | | |
| --- | --- | --- | --- | --- |
| PO Box 514. | Bartlett, New Hampshire 03812 | ...- | | |

Search BHS with Google. It finds everything! -->--->--->






You don't have to know what you're looking for...Just start looking. Click the files...









Bartlett Historical Society Museum Project

The Renovation and Transformation of the Former
St. Joseph Church into our new headquarters and museum....


Read more about our exciting project