In 1931-32 the Bartlett Forest was gridded with 500 permanent 0.1-ha square cruise plots spaced 200 by 100 meters apart. After an initial measurement of all woody stems larger than 1.5 inches (3.8 cm) in diameter, a majority of the plots (441) were remeasured by 1-inch (2.54 centimeters) diameter classes and species in 1939-40 and again in 1991-92. This 60-year data set includes areas (55%) that were cut for experimental purposes using single-tree selection, diameter-limit cutting, group selection, clearcutting, shelterwood, and thinning.
Another 45% of the Forest
has not been harvested since at least 1890.
The Forest has no history of recent fires, but a
1938 hurricane
did substantial damage, particularly at the higher elevations, and the area sustained severe damage from
beech-bark disease
in the
early 1940's.
Two other natural disturbances may be occurring on this Forest: red spruce decline associated with acid deposition and migration of tree species upslope as a result of climate warming.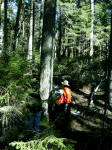 Wildlife species
on the Bartlett Experimental Forest depend on the array of surrounding forest and riparian habitats on the extensively forested mountain slopes. Nonforested and aquatic habitats are minor components of the overall landscape. At least 15 species of amphibians and reptiles, 90 bird species, and 35 mammalian species have been known to occur in the area throughout the year. Charismatic megafauna like moose and black bear can be seen: redback, spring and two-lined salamanders and wood frogs are also found, as well as a number of raptors (red-tailed hawk, goshawk, barred owl, and saw-whet owl), a variety of neotropical migratory birds, permanent residents (crossbills and redpolls); and an array of bats, small mammals, forest carnivores (weasels, fisher, bobcat), snowshoe hare, and white-tailed deer.
The most serious problem facing woodland managers in the Northeast is a lack of knowledge about the ecological relationships between wildlife habitat and forest management in northern hardwoods and associated ecosystems at various levels. This information is essential for integrating wildlife habitat maintenance and improvement with other forest management goals including timber production and maintenance of aesthetic qualities.
If you would like to know more (alot more) please visit the US Forest Service Northern Research Station at this Address:

(This is the same place I lifted this little story from, but since our taxes are probably paying for most of it, I think it's OK))